Routine maintenance is the only way to ensure the longevity of your vehicle
Why it's so important to keep your car maintained routinely.
vehicle's maintenance is a must
a simple oil change can extend the life of a vehicle's engines by years. Don't overlook simple requirements as they could become costly ones down the road. 
Maryland Residents
We have all the latest scanners/tools to work on all makes and models. Don't hesitate to bring your car in for your routine maintainance and extend years to your car.
Factory Scheduled Maintenance Services
Factory-scheduled maintenance is part of being a vehicle owner. Adhering to recommended maintenance guidelines is the best thing you can do for your vehicle, to keep it running in tip-top shape for as long as you own it. You'll save money on repairs and extend the life and function of your vehicle. Hi-Tech Auto Repair is your partner for vehicle maintenance, from your first oil change to your last one and everything in between. Our team knows exactly what your vehicle needs to stay in peak condition.
Sometimes, all it takes to keep your car running in peak condition is a little tune-up between scheduled maintenance. Tweaking things here and there will have profound effects on performance. Some of the benefits a simple tune-up can have include:
• Better fuel economy
• Improved handling and responsiveness
• Longevity from parts and components
• Smoother driving
• Lower emissions
Tune-ups are a great complement to routine maintenance and address items that aren't always covered in factory-scheduled tasks. And, like any form of proactive maintenance, a tune-up will improve the longevity of your vehicle, as well as its function.
Hi-Tech Auto Repair prides itself in offering complete tune-up services to customers who care about their vehicle's performance. We take the time to run diagnostics on your car to see where improvements can be made. Then, we put in the work to raise the standard for performance.
Routine maintenance & tune-up services
Routine maintenance is anything designed to keep the essential systems of your vehicle from suffering a breakdown. Some of the most critical forms of scheduled maintenance services include:
• Oil, lube and filter services
• Tire changes, rotations and alignments
• Fluid flushes and replacements
• Light and wiper blade replacements
• Brake replacements and bleeds
• Belts, hoses and battery checks
All of these critical services are designed to keep the many components of your vehicle running smoothly. And, because they're performed at specified intervals (5k, 15k, 30k miles), keeping up on these services throughout the life of your car means ensuring it's always running properly.
The easiest way to determine if your car could benefit from a tune-up between maintenance services is through OBD readings. However, there are also a few simple signs that you can look out for between service appointments. Pay attention to these key factors the next time you start your car and drive away:
• Decreased gas mileage
• Engine runs rough when idling
• Lights dim or become brighter when idling
• Rumbling or rattling during acceleration
• Trouble starting the car
Because a performance tune-up touches areas of your car that general maintenance doesn't, it resolves problems that may go unnoticed. Battery checks, spark plug cleaning, fuel injector cleaning, belt tensioning and more are all part of a good tune-up and all integral to good vehicle function.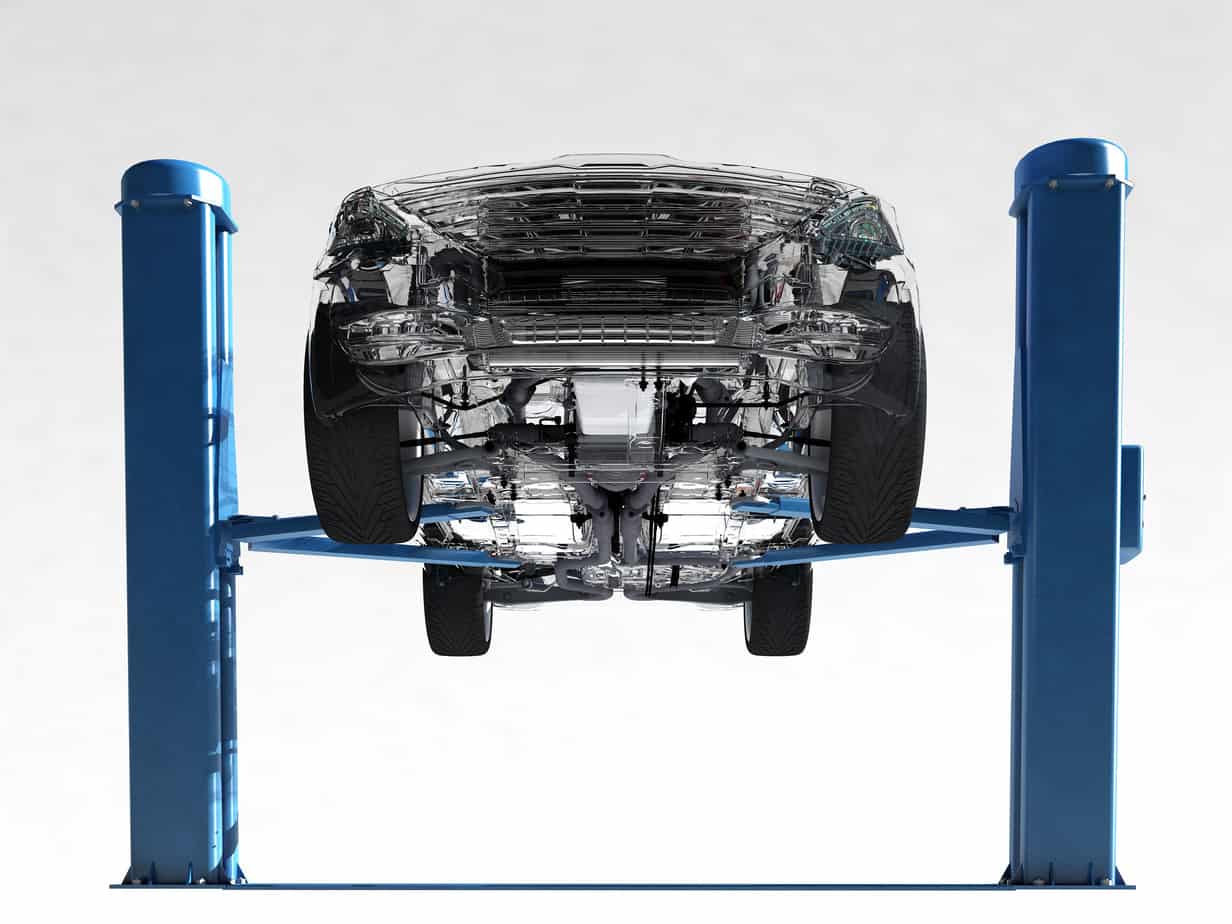 There are three major milestones in every car's lifetime where factory-scheduled maintenance is critical: 30k, 60k and 90k miles. More than just an oil change, there are other important services associated with these odometer readings, including fluid flushes, belt replacements, tire rotations and more. Depending on your vehicle make, model and mileage, the mechanics at Hi-Tech Auto Repair will help you determine the right course of action for proper maintenance at these milestones.
On-Site Experts & Services
The mechanics you can count on to always deliever the best resluts.
Repair & Maintenance Services
The most crucial services needed to ensure vehicle reliablity.

CAR BATTERY REPAIRS
If you notice your headlights flickering or find yourself needing to jump your car far too frequently, it's likely a battery issue. We provide battery testing and replacements, as well as terminal cleaning and electrical system testing as part of regular car maintenance.

DOOR LOCKS
Problems with your car's locks? Whether they're stuck, unable to be locked/unlocked or they're malfunctioning another way, we offer the maintenance required to restore the function and integrity of your locks, no matter the issue.

PARKING SENSORS CALIBRATION
Don't let malfunctioning parking sensors keep you from the perfect parallel park! We can calibrate your sensors to make sure they're detecting with accuracy, helping you back up and park with extreme precision.

Tires
Low air pressure? Balding tires? Slow leak? Tire service is part of regular car maintenance and our shop is equipped to make sure all of the needs of your tires are properly tended to. We'll make sure your tires are ready to perform for you out on the road.

Check Fluids
Part of your car's scheduled car maintenance by mileage involves checking fluids. From washer fluid to coolant, power steering to transmission fluid, we'll make sure your fluids are clean and at proper levels, providing flushes and top-offs as needed.

HEADLIGHT ADJUSTMENT
If your headlights are beaming out at unsafe angles or poor levels, let us adjust them for you. We'll calibrate the right angle for maximum visibility, while protecting oncoming drivers from glare. We can also replace bulbs and perform other factory-recommended service maintenance.
The benefits of vehicle maintenance
Sticking to your vehicle service schedule means more than just keeping it within warranty—it means improving the performance and extending the life of your car, giving you the best return on your investment. Hi-Tech Auto Repair will help keep you on-track when it comes to scheduled car maintenance by mileage, so there's no question about the integrity of your vehicle's many routine needs.
Vehicle maintenance does more than just prevent breakdowns and reduce wear on critical systems. It's also important for a number of other reasons:
• Factory-scheduled maintenance is a prerequisite for warranty coverage
• Your vehicle will have better handling, fuel economy and control
• Proper maintenance lowers emissions
• You'll reduce peripheral wear on important components
Remember that maintenance is proactive; repairs are reactive. If you spend the time and pay a low cost upfront, you'll avoid headaches and high costs in the future.
If you're approaching a milestone that demands factory-scheduled service or want to stay on top of your vehicles needs before they become problems, schedule a service appointment with Hi-Tech Auto Repair today. We'll provide comprehensive support to your vehicle to ensure its many maintenance items are addressed.
Whether you're trying to preserve your daily driver or hitting a drag strip with a finely-tuned performance engine, a good tune-up makes all the difference. Talk to the experts at Hi-Tech Auto Repair about your vehicle's condition and if a tune-up might be right. We'll help you ensure every single system of your car is performing at peak efficiency and effectiveness.
Our crew has the experience and resources to deliver regular car maintenance to just about any vehicle, foreign or domestic, no matter the make, model or year. With access to the factory-recommended service maintenance schedule and database of repair techniques, we're confident in our ability to keep your car running right for as long as you own it.